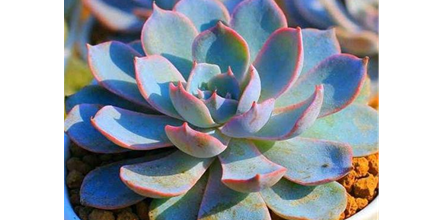 Basic Information
Scientific Name: Echeveria peacockii
Alias:
Family: Crassulaceae
Genus: Echeveria
Color primary: blue
color secondary: pink
Bloom shape: bell-shaped
Bloom color: orange-red
Seasonality: Spring/Full
Hardiness: 20℉(-6.7℃) - 50℉(+10℃)
Maxium Height: 10-15 cm
Maxium Rosette size:
Light conditions: Full light but partial light in Summer
Soil mix:well drainage soil
Water:Watering when soil is totally dry.Stop watering when the temperature is below 5℃.

Description
Echeveria peacockii is a succulent plant of Crassulaceae Echeveria,native to Puebla,Mexico.It can grow up to 10-15 cm long.Echeveria peacockii's leaves are thick in pinkish blue.The edges of leaves are easily to appear pink.The leaves are oval to elliptical.Its upper part is relatively flat.The tip of the upper part has a pointed tip and the lower part of the leaf has a keel-like curvature.Echeveria peacockii has quatity of leaves and the leaves are arranged in a lotus shape.The stems are not obvious,but as the age increases,the bottom leaves gradually fade away,forming an old pile.Echeveria peacockii blooms in late spring and early summer,will produces 1-3 pedicels,appendix-like cymes.Small flower is bell-shaped in orange-red.

How to grow and care
Easy to grow in container,best in full sun.It needs well-drained soil with a neutral pH.Water regularly form spring to autumn and allow soil to dry out before watering again.During the winter months,water only enough to keep the leaves from shriveling.Most common reason for failure is overwatering.Stop watering when the temperature is below 5℃.