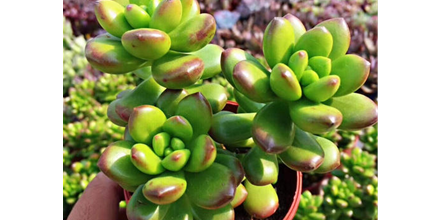 Basic Information
Scientific Name: Sedum lucidum 'Obesum'
Alias:
Family: Crassulaceae
Genus: Sedum
Color primary: green
color secondary: cherry red
Bloom shape: star-shaped
Bloom color: white,yellow-centered
Seasonality: Spring/Full
Hardiness: 20℉(-6.7℃) - 50℉(+10℃)
Maxium Height:up to 18 inches(45 cm)tall
Maxium Rosette size:
Light conditions: Full light but partial light in Summer
Soil mix:well drainage soil
Water:Watering when soil is totally dry.Keep soil dry in Winter.

Description
Sedum lucidum 'Obesum'is a cultivar with fatter,rounder,glossy freen leaves that take on an awesome cherry-red color in full sun.It is a compact very smooth and shining succulent plant up to 18 inches(45 cm)tall.The flowers are white,yellow-centered,star-shaped and appear from late fall to early spring.

How to grow and care
When growing Sedums,keep in mind that this plants need very little attention or care.They will thrive in conditions that many other plants thrive in,but wil do just as well in less hospitable areas.

Sedum is easily planted.For shorter varieties,simply laying the plant on the ground where you want it to grow is normally enough to get the plant started there.They will send out roots from wherever the stem is touching the ground and root itself.If you would like to further ensure that the plant will start there,you can add a very thin covering of soil over the plant.

For taller varieties,you can break off one of the stems and push it into the ground where you would like to grow it.The stem will root very easily and a new plant will be eatablished in a season or two.